Animal Rights dvd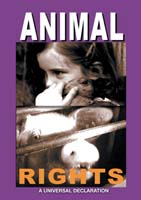 The Animal Rights movement is a far reaching social reform campaign with growing support and success around the world. As a result, millions have become active and chosen a cruelty-free lifestyle. This 22 minute dvd (ideal for opening a school talk or public meeting) examines the social and moral issues surrounding the treatment of animals and why people defend them. With extensive undercover footage it explores the reality of animal experiments, intensive farming, fox hunting, zoos and circuses.
Includes: The psychology of animal cruelty; going beyond animal welfare; helping to end animal cruelty; campaign methods and tactics; Universal Declaration of Animal Rights.
Features interviews with psychologist Dr Richard Ryder and activists Heather James (SHAC) and Neil Johnson (hunt sab). Undercover footage from Animal Aid, BUAV, CAA, CAPS, CIWF, NAVS, PETA, Save the Hillgrove Cats.
Produced and directed by Alex Bourke and Harry Snell. Presenter Zofia Torun. Script by Alex Bourke. Music by DJ Franck Frenzy and Sadie Jemmett. Produced by Innervision & Vegetarian Guides.
4:3 PAL multi-region dvd, plays worldwide except Americas.
22 minutes. Ideal for opening a meeting or school talk.
Special dvd extra 20 minutes of bonus interviews with Dr Richard Ryder, who invented the word speciesism, ideal for stimulating discussion and debate. Includes: A Short History of Animal Rights; Speciesism vs Utilitarianism; Beyond Direct Action.
PAL multi region dvd

Only £9.95