Latest news
January 2020, the biggest vegan guide ever, 800 pages. Available here and any UK bookshop.
Vegan London Complete is the seventh edition of Vegetarian London (which was always vegan), now renamed. For the first time in full colour throughout with hundreds of new entries and photos.
Latest Products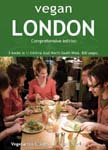 Vegan London Complete
The 7th edition of Vegetarian London, now in colour. 800 pages. 260 vegan and another 200 vegetarian restaurants, cafes and market stalls, plus hundreds more places to get vegan food. Colour-coded maps, photos. Available now.