Vegetarian Scotland Updates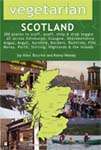 Updates to the first edition (February 2012) as at 9 March 2015.
EDINBURGH
NEW Meadowlark No. 39 vegetarian cafe, 39 Argyle Place, Edinburgh EH9 1JT. (near The New Leaf) Tel: 0131 225 1220. Open: Sun-Mon 08.30-16.00, Sat 9.00-17.00. www.meadowlarkyoga.com
NEW Natural Foods Etc vegetarian café and health food shop, 55 Clerk Street, Edinburgh EH9 8JQ. Tel: 0131 662 0820. Open: Mon-Fri 9.00-18.30, Sat 9.00-18.00, Sun 10.00-18.00. www.naturalfoodsetc.co.uk and www.facebook.com/NaturalFoodsEtc
Ann Purna restaurant is now called Bindi and also open for lunch Wed-Sun.
Black Bo's restaurant has closed.
GLASGOW
NEW Usha's vegetarian Indian restaurant, 2 Byres Road, West End, Glasgow G11 5JY. Tel: 0844 884 9399. Open: Sun-Thu 12.00-22.0, Fri-Sat 23.00. www.ushas.co.uk and www.facebook.com/UshasVegetarian
NEW The Flying Duck vegan pub, 142 Renfield Street, Glasgow G2 3AU. Tel: 0141-5641 450. Open: Mon-Thu 13.00-01.00, Fri 13.00-03.00, Sat 14.00-03.00, Sun 14.00-01.00. Vegan food served till 10pm, soup, sandwiches, burgers, hot dogs, quesadillas, wedges, mezze platter, tacos, nachos, ice-cream, all £5 or under. www.flyingduckclub.com
NEW Tramway vegetarian café-bar, 25 Albert Drive, Glasgow G41 2PE, Tel: 0141 276 0953. Open: Mon-Sat 9.30-16.30, Sun 12.00-16.00; kitchen closes an hour before closing time. In an arts centre. www.tramway.org/Pages/cafe-bar.aspx
Heavenly, Biblocafe and Grassroots Organics in Glasgow have closed. (page 50).
ABERDEEN
Tropical Gateway has closed.
ISLE OF SKYE
NEW Jacksons Wholefoods, Isle of Skye 2 Wentworth St, Portree, Skye IV51 9EJ. Tel: 01478-613 326. Open: Mon-Sat 9.00-17.00, Sun closed. Conveniently near the main square and harbour/quay, so they get lots of tourists stocking up here. Local sourdough bread comes in on Tuesdays. Fridge and freezer with vegan cheeses, meat substitutes, tofu, Swedish Glace. Lots of vegan chocolate. Bodycare. Supplements. Ecover cleaning. MC, Visa. They are part of Highland Wholefoods distributors and can order in anything else you need www.highlandwholefoods.co.uk