NEW Vegan Passport (third edition) - March 2010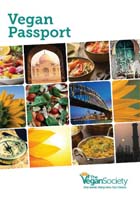 Edited by George Rodger of the Vegan Society
The essential passport sized travelling companion for vegans has just increased in size from 56 to 73 languages, now covering over 95% of the world's population, with a page saying what vegans do and don't eat in great detail. Let the waiter show it to the cook and you'll be sure of a totally vegan, animal free feast in restaurants anywhere even if no one speaks a word of your language. Includes English, Afrikaans, Albanian / Shqip, Amharic (Ethiopia), Arabic, Basque / Euskera, Bengali, Bulgarian, Burmese, Catalan, Chinese (traditional and simplified), Croatian / Hrvatski, Czech, Danish, Dutch / Nederlands, Estonian, Finnish / Suomi, French, Galician, German / Deutsch, Goan / Konkanim, Greek, Gujurati, Hebrew, Hindi, Hungarian / Magyar, Icelandic, Indonesian, Italian, Japanese, Kannada, Khmer (Cambodia), Korean, Latvian, Lithuanian, Malagasay / Malagache, Malay, Malayalam, Maltese / Malti, Marathi, Mongolian, Nepali, Norwegian / Norsk, Persian / Farsi, Polish, Portuguese, Romanian, Russian, Serbian / Srpski, Shona, Sinhalese, Slovak / Slovensky, Somali, Spanish, Swahili, Swedish / Svenska, Tagalog / Filipino / Pilipino, Tamil, Telugu, Thai, Tibetan, Tigrinya (Eritrea), Turkish, Ukrainian, Urdu, Vietnamese, Welsh, Yoruba, Esperanto.
6 Dec 2013 sold out: Awaiting reprint, we have been told by the publisher the Vegan Society that the printer who promised delivery early December is now saying week beginning 16 December. Please email us if you are travelling now and we will try to help you.
Available Online

Only £4.99 / US$8.00

Still Not Convinced?