Vegetarian North of England Updates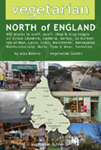 Important updates to the first/second printing (Oct/Dec 2010) as at 9 May 2012
CUMBRIA - Cockermouth
Barf House (page 17) has closed.
CUMBRIA - Ulverston
NEW Natterjacks vegetarian nighttime licensed café in Sefton House vegetarian B&B at 34 Queen Street LA12 7AF. Open: Wed-Sat 16.00-23.00, Sun-Tue closed. Homemade organic cakes, muffins, biscuits 70p-£2.50, usually vegan options such as flapjacks. Artisan coffees, teas, beer. Wine £2.40-3.20 glass. Children welcome, well-behaved dogs too. Facebook: Natterjacks
NEW Conishead Priory and Conservatory Cafe vegetarian cafe and accommodation in Buddhist centre at Conishead Priory, off A5087 Priory Road / Coast Road, Ulverston LA12 9QQ. Tel: 01229-584029 (lines open Mon-Fri 9.30-17.00, Sat 10.00-12.00) Open Mar-Oct Mon-Fri 14.00-17.00, Sat-Sun & BH 11.00-17.00; Nov Sat-Sun only 12.00-16.00; Closed Dec-Feb and Buddhist festivals In the sunny conservatory of Conishead Priory Buddhist Temple for World Peace, with indoor and outdoor seating. 5 minutes drive or 30 minutes walk from Ulverston, or take a bus. The cafe is run by the same people as World Peace Cafe in Ulverston. Cakes, scones, coffee. Weekend also light lunches. Children welcome. Dogs welcome on lead. Also gift shop and books on Buddhism and meditation. Tours of the temple and historic house, and 70 acres of grounds and gardens with a beach on Morecambe Bay. Closed during festivals, see website or ask at the World Peace Cafe.
Vegetarian accommodation: You do not need to take a course to stay at the centre, open throughout the year for guests except during their Spring and Summer festivals, New Year retreats and certain weekends. Single, twin and dorm rooms £20-40 includes light breakfast and two meals a day. Bring sleeping bag and towel if in a dorm. Easter break family room twin £180, triple £240, quad £270, quint £300. Courses, festivals and retreats, £30-50 per day, £80-120 weekend. www.manjushri.org
DERBY
Yaffle Cafe (page 55) is now open more days Mon-Fri 12.00-17.00, Sat 11.00-17.00, Thu 18.30-22.00, Fri 17.30-22.00.
LANCASHIRE - Blackburn
V-Fresh (page 71) has closed and their vegetarian menu has been moved across to The Courthouse Restaurant in Kings Court, still run by East Lancs Deaf Society at 33 King Street, Blackburn BB2 2DH. Tel: 01254-296096. Open Mon-Fri 08.00-16.00, also Tue-Fri 18.00-23.00. Closed weekends. www.thecourthouserestaurant.co.uk
MANCHESTER
NEW Bistro 1847 bar and restaurant, 58 Mosley Street (corner Booth St) M2 3HZ. Tel: 0161-236 1811. Open: Wed-Sun 12.00-22.00, Mon-Tue closed. Brand new (originally named detoxretox), opposite Manchester art gallery, with vegetarian drinks too. The bar always has a small tapas style menu, £4.50 for one plate, £6.95 two, then £3 per plate, most dishes vegan. A la carte starters £3.95-4.95 include soup and some of the tapas dishes. Mains £9.95-12.95. Desserts £4.50 such as vegan sticky toffee pudding. Sunday lunch main £9.95, two courses £13.95, three £16.95. Wine from £12 bottle, £4.75 glass. Children welcome, high chairs. Outside tables, dogs welcome there. Booking advised. www.bistro1847.co.uk
Chorlton Wholefoods has closed. (page 99)
MERSEYSIDE - Liverpool
The Green Fish vegetarian cafe is temporarily closed (page 107) and moving to and renovating a new venue. For latest news www.greenfishcafe.com
NOTTINGHAM
Squeek is now Aubergine Cuisine at 23-25 Heathcoat Street, Nottingham NG1 3AG Tel: 0115 955 5560. Open: Tue-Sat 17.30-22.00 web, Sun-Mon closed. New gourmet vegetarian restaurant in upmarket Hockley on the edge of the city centre, with dishes from around the world and heaps for vegans. Starters £5.75 include smoked tofu auberine wraps in spicy tomato sauce, or mushrooms in stout with spinach on toasted ciabatta. Mains £12.95 such as Moroccan aubergine Wellington, West African peanut stew, black bean and tofu with pak choi and steamed coconut rice, red wine ratatouille with wheat-free pasta, spicy bean tortilla with (vegan) cheese and Spanish rice. Desserts £5.75 such as vegan chocolate tart with cream or ice-cream, beetroot and chocolate cake, affogato ice-cream with espresso and amaretto. Three courses £21.50, two £17.50 or £14.95 ordered before 6.30pm. Vegan organic house wine from £3.75 glass, £14.95 bottle. Children's menu £6.25 for two courses, high chairs. Braille menu. No dogs. www.aubergine-cuisine.co.uk and Facebook: Aubergine Cuisine
NORTH YORKSHIRE
NEW Danby Health Shop 1 Briar Hill, Danby, near Whitby YO21 2LZ. (on Whitby to Guisborough road) Tel: 01287-669200. Open: Mon-Sat 9.00-17.00 (Wed 12.00), Sun closed. Opened 2009 in a village in the Esk Valley in the North York Moors national park. Organic fruit and veg with salad tubs, fridge and freezer with vegan cheese, meat substitutes, hummus, tofu, soya yogurt, Booja Booja and Swedish Glace vegan ice-cream. Vegan chocolate by Plamil, Booja Booja, Divine, Organica, Montezuma. Lots of bodycare and supplements. The Stonehouse Bakery and Teashop next door does jacket potato and beans. The other side is the Duke of Wellington pub with a couple of vegetarian meals. Less than a mile away towards Whitby is the North York Moors National Park Centre with exhibition, gallery, climbing wall, play area, gift shop and tearooms. For more on the area www.eskvalley.com/danby
NEW Venus vegetarian cafe, 29 Ramshill Rd, South Cliff, Scarborough YO11 2LW (start of the A165 to Filey, opposte Sainsbury Local). Tel: 07950 163160. Open: Mon-Wed, Fri-Sat 10.30-16.30; Thu, Sun closed. Also first Sat 19.00-22.00. Opened 2010. Vegan and gluten-free options. Soup of the day with bread £3. Two main dishes daily £4.50-4.95, one usually vegan, including butternut squash Thai curry with basmati rice and naan bread, red lentil shepherd's pie, Homity pie, Cornish pasties, homemade pizzas, chilli, lasagne, bognaise. Sandwiches and toasties £2.50 made to order with salad garnish. Desserts £1.50 include cakes, scones, vegan flapjacks and apple crumble (not necessarily every day). Children's section of menu, high chair, toys. First Saturday of the month live music 7-10pm with a meal and drink for around £10. Alcohol licence applied for. Faceook Cafe Venus
Faceook Acoustic Bistro Live
YORK
The Blake Head has closed. (page 162)
WEST YORKSHIRE - Leeds
NEW The Third Estate ethical fashion shop 102 Merrion Centre (at the back), Leeds LS2 8NG. Tel: 0113-244 8896. Open: Tue-Sat 10.00-17.30, Sun-Mon closed. All the shoes here are vegan, with a selection from the Vegetarian Shoes brand (which has a shop in Brighton) and they can order in the whole range. Also other ethical and Fairtrade clothing. www.vegetarian-shoes.co.uk
ISLE OF MAN
Greens has closed in Douglas (page 218) has closed. They have opened a licensed 50% vegetarian café with similar food and prices at Tynwald Hill Tea Rooms at Main Road, St Johns, Isle of Man IM4 3NA. Tel: 01624-800 129. Open: Mon-Sun 9.00-17.00.
Notice to pirates (you know who you are): All descriptions on this page are © copyright Vegetarian Guides. You are welcome to link to any page in this website. Commercial websites contact us if you are interested in licensing our content, otherwise do your own research and write your own descriptions. We work hard full time to provide this information because we want to help vegetarian businesses to do well and make it easy for people to eat cruelty-free. If you steal content from our books, articles or website and surround it by adverts to make money for yourself without doing any actual work, we will sue you and tell the rest of the vegetarian world what you did. Our intellectual property lawyer says that re-arranging the sentences, subbing them down and pretending you had never seen the book you stole them from does not count as original work, so good luck with telling the judge that. Please respect our hard work and simply link to this site if you want to spread the word.