Vegetarian France Updates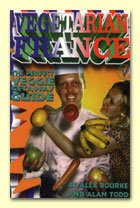 January 2013. Click for: Printer-friendly pdf version
France now uses the euro. 1 euro is about 7 Francs or US$1.60 or UK£0.80

For latest brief listings in French: www.vegetarisme.info/spip.php?rubrique49
PARIS
NEW Vegan Folie's vegan organic cake shop at 53 Rue Mouffetard, 75005 Paris (5th arrondissement). Tel 01-43 37 21 89. Open: Tue-Sun 11.00-20.00. Metro: Monge www.veganfolies.fr and www.facebook.com/VeganFolies
NEW The Gentle Gourmet vegan cafe, , 24 bd de la Bastille 12eme Paris, 75012 Paris. Tel 01-43 43 48 49. Open: Tue-Sat 07.00-23.00, Sun 10.00-15.00, Mon closed. www.gentlegourmetcafe.com and www.facebook.com/GentleGourmetCafe
NEW PARIS 3rd, Le Potager du Marais 22 Rue Rambuteau, 3rd arrondissement. Open every day noon until midnight (Sun 1pm till midnight), last orders 10.30pm. Metro: Rambuteau (line 11), Hotel de Ville (1 and 11) Tel: 01-42 74 24 66. Finally Paris has a vegetarian restaurant in the 3rd arrondissement, next to the Pompidou Centre. And this one has a separate vegan page in its menu. Dishes from 7 to 12.50 euros or a set menu for 15 euros. Photo and map There is always at least one vegan soup. However, I decided on a cold starter, seaweed pate with salad and plenty of wholemeal bread, followed by a vegetable casserole with tofu and potatoes which was huge and very filling. With freshly-extracted carrot, celery and beetroot juice and fruit compote this made a very satisfying and warming lunch and came to just over 15 euros, service included. By 2pm the place was full with a seeming mix of tourists and locals. (Peter Freeman)
MAOZ new falafel bars near Metro St Michel at 8 rue Xavier Privas, 5th arrondissement, tel 01-43 26 36 00, and at 36 rue Saint-André des Arts, 6th arrondissement. Both open daily 11.00-23.00, Thu-Sat till 02.00. www.maozusa.com
Les Quatre et Une Saveurs in the 5th is now called Les Cinq Saveurs D'Anada, 72 rue du Cardinal-Lemoine. Tel: 01-43 29 58 54. Metro Cardinal-Lemoine or Monge. Open Tue-Sun 12.00-14.30, 19.00-22.30, Mon closed. Macrobiotic vegetarian/vegan plus fish. www.anada-5-saveurs.com
NEW Saravanaa Bhavan south Indian vegetarian restaurant, 170 rue du Faubourg Saint Denis, 10th arrondissement.. Tel: 01-40 05 01 01. Open 10.30-23.00. www.saravanabhavan.com
NEW Loving Hut, 92 boulevard Beaumarchais (near rue Saint-Claude), 11t h arrondissement. Metro: St-Sebastien-Froissart. Tel : +33-1 48 06 43 84. Open: Mon-Sat 11.30-15.00, 18.00-22.30, Sun closed. Vegan fast food cafe/restaurant and food shop. Starters 5-8 euros, mains 9.50-13.50 euros such as big salad with vegan cheese, mushroom pancake and salad, spaghetti, quiche and salad, vegan pizza and salad, stir-fry veg with tofu and noodles. Burger 6.50 euros, with French fries 10.50 euros. Desserts 6-9 euros include chocolate cake, fruit crumbles, cheesecake, banana split. Organic juices, non-alcoholic beer, soft drinks, hot drinks 2.00-7.80 euros. paris.lovinghut.fr
Tien Hiang restaurant, 20 rue Nationale, 13th arrondissement (Chinatown). Metro: Porte d'Ivry. Tel: 01 45 82 99 54. Open: Wed-Mon 10.30-23.00, Sat 11.30-23.00, closed Tue. Meals 6 to 7.5 euros.
La Victoire Supreme du Coeur, Country Life, La Truffe, Piccolo Teatro and Aquarius in the 4th (p.17) have closed.
See also www.veganparis.com
NORTH WEST
NEW La Basse Louvetiere, Courcite 53700 (53 Mayenne, Loire). Tel: France +33-2 43 04 71 24, England +44 (0)7092 311708, Fax England +44 (0) 7092 025973. 18th century vegetarian guest house and self-catering gite. www.french-holidays-loire.com website in English. Email: gitesinfrance@aol.com
NEW La Haute Fariniere Retreat 2 hrs from SW Caen, idyllic B&B well positioned to discover Le Mans (40 mins), Laval (40 mins), Mayenne, Loire, Chartres, Tours, Angers and Paris. Equally ideal for an overnight respite if continuing south. Home grown seasonal cuisine. Individual needs catered for i.e. vegan, juicing, detox, raw food prep classes and health coaching. Dawn & Robert look forward to making your visit special. Tel: +33-2-43902411 or dawn@rainbowpromise.co.uk for details and photos. Dept 53 - La Haute Fariniere, Torce Viviers En Charnie, 53270 France Tel: 02 43902411 e-mail dawn@rainbowpromise.co.uk Prices approx 60 euros pnpp & 30 euros pp for eve meal. www.dawncampbellholistichealth.eu
NORTH EAST
NEW Domaine Chateau Bellevue in France-Compte (39 Jura), 39700 Chatenois. Near Dole, Dijon and Besancon. 19th century chateau in a 5-hectare park, with ancient chestnut and lime trees where you can discover nature and meditate. Rich variety of rare and protected species of flora and medicinal plants. Vegetarian organic kitchen, mainly ayurvedic. French, English, German, Italian spoken. 11 rooms, one suite, apartment, separate house, and dormitory. Seminar rooms. Swimming pool. Playground. No pets. Non smoking. Prices with breakfast: double or twin room 58 euros, single 46 euros, suite 107 euros, dormitory 20 euros. Apartment (4.5 rooms) 610 to 687 euros per week. Small house 382 euros per week. Extra charge for partial board 12.5 euros, full board 23 euros. Tel: +33-3-84 72 82 35. Fax: +33-3-84 82 67 48. Lots more on their website www.arche-novum.com. Email: contact@arche-novum.com
NEW Les Battees Guesthouse, Burgundy (71 Saone et Loire), opening Easter 2004, vegetarian and vegan guesthouse. Formerly a wine-grower's mansion in its own wooded park, on a rise overlooking the canal port of St Leger-sur-Dheune. Situated in beautiful countryside on the main route to the tourist centre of Autun, within easy reach of Beaune, the wine capital of Burgundy. Dating from the 19th Century, the house retains many original features, such as moulded plasterwork on the ceilings, marble fireplaces, and terracotta floor tiles. All rooms have en suite facilities. The house also possesses its own extensive orchard, enabling them to offer homemade jams and fruit-based desserts such as plums in brandy to enjoy with breakfast and the Table d'Hote on an elegant terrace. They will cater for children of all ages, but cannot accommodate pets. For further details phone Val Patchett on +33 (0)3 85 45 47 09. www.lesbattees.com
SOUTH EAST
NEW in Menton, Loving Hut (east of Monaco), 649 Promenade du Soleil, 06500 Menton, Cote d'Azur French Riviera (by the sea near Ave du Pigautier). Tel : +33-4-92 07 32 57.. Open: Tue-Sun 12.00-15.00, 19.00-22.00. Vegan fast food cafe/restaurant and food shop. Big menu in French and English online with photos. Starters and soups 5.80-7.50 euros include shepherd's pie. Wraps 7.50 euros such as falafel or kebab. Lots of mains 10-14 euros such as spicy spaghetti, tofu-cashew quiche with salad, mushroom and soy crepes, crispy nuggets with veg and organic brown rice, coconut curry with baguette. Desserts 1.50-6.00 euros include cookies, muffins, ice-creams, chocolate cake, cheesecakes, apple pie, almond apple pie, raw cake of the day. Organic juices, non-alcoholic beer, soft drinks, hot drinks 2.00-5.50 euros. menton.lovinghut.fr
NEW in LYON, Soline vegetarian restaurant. It has a very modern and colorful appearance and friendly ambience. International dishes are served lunchtime Mon-Fri and Thu evenings. 7.50 for one dish, 12 euros for a menu. Mainly organic products. 89 Rue Paul Bert, 69003 Lyon, Tel: 04-78 60 40 43.
NEW Hotel Les Fleurs, Auvergne (63 Puy de Dome) Vegetarian hotel with vegetarian restaurant, 367 Avenue Geneau de Mussy, 63150 La Bourboule. Tel: +33-4-73 81 09 44, Fax: +33-4-73 65 52 03. 18 rooms, 35-60 euros per person. Lots of organic ingredients. Dogs welcome. www.hotellesfleurs.com. hotel.lesfleurs@wanadoo.fr
NEW in NICE, Le Speakeasy vegan restaurant, 7, rue Lamartine, in the centre of Nice's financial and shopping district. Menus or carte, around 12 euros. Open: Mon-Sat 12-14.15 (last order), and Fri-Sat 19-21.15 (last order); closed Sun. Reservations advised tel: 04-93 85 59 50. Run by a Californian. Specialties include vegetable p'tde from potatoes, olive oil and local herbs; vegetable pies made with kneaded grains instead of flour; macrobiotic casseroles, pastries (also without flour) and fresh banana ice cream without the cream, calories or cholesterol. The tourte au potimarron, made from a local gourd the color of egg yolk which tastes like scrambled eggs is a local favorite. The walls are covered in quotations from famous vegetarians. (Jeffrey M. Freedman)
SOUTH WEST
NEW Tomlins Vegetarian Guest House & Cookery School Opened May 2004 in Charente-Maritime. 23 Rue Du Fief Gourmand,17290 Chambon. Tel: +33-5-46 35 65 42. Fax: +33-5-46 35 69 46 www.tomlinsinfrance.com Email: info@tomlinsinfrance.com
NEW Les Jardins d'Iesse Organic vegetarian restaurant in Montignac in the Dordogne, open every day July till September. Superb food. Very welcoming host, good English spoken. Sometimes concerts on Friday or Saturday evening in July and August. 28 rue de Juillet, Montignac. Tel: +33-5-53 50 18 51.
NEW Le Guerrat Veganic non smoking bed and breakfast in stone farmhouse, run by an English couple. Room from 40 euros per night for a couple, evening meal 14 euros per person. Sue and Trevor, Le Guerrat, 09420 Esplas de Sérou, France. Tel: +33-5-61 96 37 03. leguerrat@aol.com. http://vegan.port5.com/flashvegangite2.html (This website is not always live.)
CONTACT FELLOW VEGGIES
Aequalis is now called One Voice and is based in Nantes. See www.onevoice-ear.org
There is a big animal rights demonstration in Paris on the Saturday in the middle of May, See www.veggiepride.org