Vegetarian East of England Updates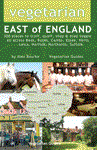 Updates to the first printing as at 13 May 2013. (purchasers of later printings will have some of these already in the book)

BEDFORDSHIRE

NEW Café Virtuoso vegetarian cafe 7 Harpur Street, Bedford MK40 1LA. Tel: 01234 354707. Open: Mon-Sat 8.30-16.30, Sun closed . Brand new vegetarian café and coffee shop in the town centre, specialising in wheat-free and vegan. Kids meals, high chairs. Meditation classes, book club, evening talks. www.cafevirtuoso.co.uk

The New Inn, Wymington has been taken over and is no longer veggie-friendly.

CAMBRIDGESHIRE

NEW Taste of Cambridge vegetarian falafel stall on Market Street by the church, near the market square. Tel: 077155 11260. Open: Mon-Sat 11.00-16.00, Sun closed (reduced hours in winter). All the falafels wraps ££3.95-4.45 are vegan and contain hummus, harissa and tahini. They also do vegetarian pizzas to order, can be vegan without cheese. Winter soups £2.50-2.80, often vegan, with crusty sourdough bread. Vegan brownies £1.50 are always selling out. Organic fruit drinks £1.40, cloudy lemonade 80p. Cash only. www.tasteofcambridge.co.uk

ESSEX

NEW Cafe Dharma in Yoga Dharma centre, 129 Southchurch Road, Southend on Sea, Essex SS1 2NW. Tel: 01702-600 762. Open: Mon-Sat 8.45-17.30, Sun bookings only. Vegetarian cafe with a vegan chef in a yoga and therapies centre, near the bus and train stations. Cooked breakfasts £2.95-4.55 such as porridge, spicy scrambled tofu with ciabatta. Wraps, paninis, sandwiches £2.95-3.95 include roast veg, sausage and tomato, falafel with beans and hummus, avocado with salsa and pesto. Light bites and lunches £3.95-6.95 are almost all vegan like carrot and coriander soup, mezze plate, pasta bowl, goulash, risotto or Thai tofu salad. Dairy-free cakes, vegan ice-cream and cookies £1.05-1.95. Fresh juices, smoothies, shakes £2.55-3.95. Cup of tea £1.25, pot of loose leaf herbal tea £2. Coffee £1.50-£2. Children welcome, toys, books. Sofas. Outside seating, dogs welcome. Drop-in adult yoga classes, kids you need to book for. www.yogadharma.co.uk

My Kitchen in Southend has closed and they recommend

NEW The Railway Hotel vegetarian pub-restaurant, 32 Clifftown Road, Southend-on-Sea SS1 1AJ. Tel: 01702-343194. Food: Tue-Fri 12.30-15.30, 18.00-21.00, Sat-Sun 12.30-18.30. Most of the food is vegan. Main courses £6.50, or weekday lunchtime only £5, such as Thai green curry with sticky rice, mixed bean chilli with rice or wedges, burgers with wedges, vegan calzone. Antipasti or portion of chips £3. Desserts £3 include vegan chocolate cake with orange sauce. Children welcome till 9pm. Beer garden, dogs welcome there. www.railwayhotelsos.co.uk

A Pinch of Veg in Ilford has closed so go to the nearby


NEW Saravanaa Bhavan vegetarian Indian restaurant, 115-127 Cranbrook Road, Ilford IG1 4PU. Tel: 020-8911 8718. Open: 10.00-22.30. Train: Ilford. Tube: Gants Hill then bus. Very big restaurant on two floors near Ilford station, part of a worldwide chain with branches in East Ham, Tooting and Middlesex. Starters £1.45-4.50. Over 20 kinds of dosas and uthappam £2.45-3.95. Curries and Chinese dishes £3.95. Business meal £4.25, south Indian thali £6.95, north Indian £7.95. Desserts £1-3.95 include vegan halva, ladu, fruit salad. Wine from £5 glass, bottle £15-35. High chairs. Party room. www.saravanabhavan.com

NEW Dosa Rani vegetarian Indian and Singaporean restaurant and sweet shop, Goodmayes at 56-58 Goodmayes Road, Ilford IG3 9UR. Tel: 020 8598 8333. Train: Goodmayes BR. Open: Mon-Sun 11.00-23.00. Lunch special £3.99 rice, veg, curry of the day and dal. Starters £1.40-3.20. Dosas £2.95-4.20. Lunch thali £5.99, dinner £7.99. Noodle dishes £5.45. Curries around £5. No vegan desserts. Soft drinks, juices, tea, coffee £1.20-1.90. No alcohol. Children welcome, high chairs. Seats outside, dogs welcome.

NEW Chili & Chutney Indian vegetarian restaurant, Ilford at 355 Eastern Avenue IG2 6NE. Tel: 020-8550 1113. Tube: Gants Hill. Open: Tue-Thu 11.00-21.30, Fri-Sun 11.00-22.30, Mon closed. Opened October 2010. Food from the Punjab, South India, Gujarat, Bombay and Indo-China. Lunchtime all you can eat buffet £3.95. Sumday brunch £6.95 11.00-15.00. Evening a la carte. Lots of starters 50p-£4. Main dishes £2-4.50. Thalis £3.50, £5.50, deluxe £7.50 with dessert. Desserts £2-2.50 include vegan jelabi, bundi ladoo, halwa. Bring your own alcohol, licence applied for. Children welcome, 2 high chairs. MC, Visa minimum £10, cashpoint opposite. www.chilinchutney.com

Saffron in Saffron Walden has closed.

HERTFORDSHIRE

NEW Cafe Anusia, Tring (pronounced "Anoosha") vegetarian cafe replaces The Green House restaurant at 50 High Street and is run by the same people. Open: Mon-Sat 9.00-17.00, Sun 10-16.00. www.cafeanusia.co.uk

NEW GoKula vegetarian café, 65 Market St, Watford WD18 0PR. Tel: 01923-353289. Open: Mon- Sat 10.00-18.00, Sun 11.00-17.00 New family run vegetarian cafe in the town centre. No eggs. All day full cooked breakfasts (£3.50-£5.50). Wraps (£3.90, with wedges and salad £6.90) such as falafel, burger or Mediterranean veg with hummus. Mains (£2.90-£6.50), served with salad and wedges or baked potato, include spicy vegeburger, pizzas, buckwheat pancakes, or have the belt-busting Special (£7.90) with soup, pancake, filled baked potato and salad. Desserts (£1.60-£2.45) are worth a special trip for vegans with ice-cream, chocolate orange fudge cake, apple crumble, chocolate espresso tart. Teas from £1.20. High chairs, colouring books. Outdoor seating, dogs welcome. Last Saturday of the month open mic night 7-10pm. Sundays from 5pm half price meals and videos on vegetarianism and spirituality. Visa, MC. www.facebook.com/GoKulaCafe (menus)

Woods vegetarian cafe in Bricket Wood has closed.

NORFOLK

NEW Namaste India vegetarian restaurant, Norwich , 2a Opie Street NR13DN. Tel: 01603 662016, 07787 413056. Open: Tue-Sun 11.30-14.30, 18.00-23.00, Mon closed. The lunch set menu £6.95 is great value with a choice of masala dosa with lentil soup and chutney, or a thali that includes the curry of the day. Evenings and Sunday a la carte with usual starters and chaat (around £4), dosas and uttapam (£3-7), mains (£7-10) like Punjabi cashew curry in sweet and spicy sauce, Gujarati mashed mixed veg curry with toasted sandwich rolls, or north Indian aubergine. Desserts (£3.45) include vegan rice pudding with soya milk, or banana, almond and cashew with mango pulp. Bring your own alcohol, corkage £4.95 per bottle of wine, £1.45 beer. Children welcome, bring your own child seat. www.namasteindianorwich.com

NEW Lili vegetarian cafe, Norwich Sackville Place Business Centre, 44-48 Magdalen Street Norwich NR3 1JU. Tel: 07787 413 056. Open: Mon-Sat 08.00-18.30, Sun 10.00-17.00. Snacks and light meals such as pakoras and wraps. Tea £1.50, coffee £2. Facebook Lili Coffee Cafe

NEW Moorish vegetarian falafel café, Norwich 17 Lower Goat Lane NR2 1EL. Tel: 01603 622 250. Open: Mon-Sat 11.00-17.30, later in summer, Sun 12.00-16.00 in summer. Facebook Moorish Falafel Bar

NEW River Green Cafe vegetarian restaurant and deli opened 6 July 2011 at The Street, Trowse, Norwich NR14 8AH (2.4km south-east of Norwich city centre). Tel: 01603-622448. Open: Wed-Sat 11.00-22.00, Sun 11.00-16.00, Mon-Tue closed. Buses from centre stop outside. The owners of the Red Lion veggie food pub in Great Bricett, Suffolk, have partnered with a local vegan businessman to open on the outskirts of Norwich, in an old bakery with cafe, formal dining area, meeting/event room and eventually a deli. Food will be similar to the Red Lion with also a lighter daytime menu and a completely organic and vegan wine list and locally sourced vegan real ales. Cakes will be supplied by Coopers Vegan Foods. Patio overlooking the village green. Visa, MC, Amex. www.rivergreencafe.co.uk Facebook: River-Green-Cafe

Vegeland in Norwich is now called Loving Hut and also open Saturday 11.00-16.00 www.lovinghut.co.uk/norwich

The Tea House in Norwich is no longer vegetarian but is worth visiting for their their most popular item, a huge vegan doorstep Mediterranean salad sandwich for £3.95.

Wholefood Planet, Norwich has closed.

The Brick Kilns in Little Plumstead is now doing accommodation in 3 luxury bedrooms. 2 double ensuite £75 per room, 1 twin with private show room £65. Children over 12 welcome. No dogs

SUFFOLK

Rainbow Bed & Breakfast has closed.

Holland & Barrett Cafe in Bury St Edmunds has closed but the other two remain open though serve tuna.


NEW The Cross vegetarian restaurant and wine bar, Woodbridge at 2 Church Street, Woodbridge IP12 1DH. Tel: 01394-389076. Open: Tue-Sat 12.00-14.00, 18.30-21.00 (last orders); bar 12.00-15.00, 18.00-23.00; Sun-Mon closed. Opened November 2009 in a restored grade 2 listed building in a market town. Starters £5.50-£6 include squash and sweetcorn soup, or onion and chickpea fritters. Mains £10-£14 such as tikka masala dahl curry, pizzas, wild mushroom pancakes with cashew and walnut pesto couscous, or superfood salad. Desserts £6 or £7 with vegan ice-cream, such as Victoria plum and apple crumble, pineapple with hot chilli sauce and Booja Booja ice-cream; rhubarb and apple crumble; ice-cream £4. Vegetarian, mostly vegan, wine from £3.80 glass, £15 bottle. Beer £3.50. Cocktails £6. Thursday lady's lunch £15 for a cocktail, two courses and a glass of wine. www.thecross1652.com (latest menu) - Facebook: The-Cross-1652

Notice to pirates (you know who you are): All descriptions on this page are © copyright Vegetarian Guides. You are welcome to link to any page in this website. Commercial websites contact us if you are interested in licensing our content, otherwise do your own research and write your own descriptions. We work hard full time to provide this information because we want to help vegetarian businesses to do well and make it easy for people to eat cruelty-free. If you steal content from our books, articles or website and surround it by adverts to make money for yourself without doing any actual work, we will sue you and tell the rest of the vegetarian world what you did. Our intellectual property lawyer says that re-arranging the sentences, subbing them down and pretending you had never seen the book you stole them from does not count as original work, so good luck with telling the judge that. Please respect our hard work and simply link to this site if you want to spread the word.