Vegetarian London (7th edition) NOW IN COLOUR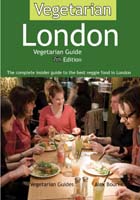 edited by Alex Bourke
Over 220 vegetarian and vegan restaurants, cafes and take-aways, 90 new since the 2008 sixth edition. Plus another 200 restaurants with great vegetarian food. 250 wholefood and health food stores. Places to stay. Maps.
"For people living in or visiting the capital, this book is more important
than the A-Z." -- The Vegetarian Society
This latest edition is the first in full colour. Many existing entries have been expanded or given a full page or double page with colour photos. 220 totally vegetarian restaurants, cafes and take-aways, 25 of them vegan. 200 more restaurants and cafes with lots of vegan options (for when the veggie places are closed or you are in a group of meat-eaters). Detailed restaurant reviews with prices, hours, sample dishes. Colour maps of all central London areas: Soho, Covent Garden, Bloomsbury, Tottenham Court Road, Euston, Marylebone, the City, South Bank, plus veggie hotspots Camden, Clapham, Hammersmith, Islington, Stoke Newington, Wembley and Bethnal Green. New maps of Brixton and east London.
250 wholefood and health food stores telling which ones offer take-away food, organic fruit and veg, vegan ice-cream, wine, fridges or freezers. Vegetarian-friendly hotels, guest houses and hostels. Sections on vegetarian wine, raw food, festivals, shoe shopping, Veggie Pages directory of services. New sections on days out in London, top veggie areas, what is an Oystercard and why you need one.
Nine indexes (vegan, organic, posh, cheap, alcohol, cafes, breakfast, child-friendly, A-Z). 440 pages, full colour throughout, maps, over 600 entries. ISBN 978-1-902259-14-9.

Coming soon! Email us if you would like to be kept up to date, or help with proofing an area you live or work in.
Preorder now

Only £9.95 / US$19.95

Free book

Pre-order now and if you are in the UK, we will send you a free copy of the previous 6th edition with update sheet to be going on with. (Sorry, as this book is quite expensive to post abroad, we cannot make this offer to overseas readers. If you are about to travel we recommend you buy the 6th edition now, otherwise wait for the new edition.)