Vegan London (the 7th edition of Vegetarian London)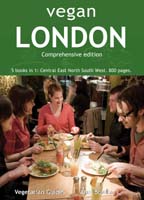 edited by Alex Bourke
Over 300 vegan and vegetarian restaurants, cafes and take-aways, 150 of them vegan.
Plus another 200 restaurants with great vegan food.
250 wholefood stores.
Places to stay. Maps.
"For people living in or visiting the capital, this book is more important than the A-Z." -- The Vegetarian Society
This latest edition is the first in full colour. Many entries have been expanded to a full page or double page with colour photos.
Detailed restaurant reviews with prices, hours, sample dishes.
Colour maps of central London areas: Soho, Covent Garden, Bloomsbury, Euston, Fitzrovia, Marylebone, the City, South Bank, plus vegan hotspots Camden, Clapham, Hammersmith, Islington, Kings Cross, Shoreditch and Brick Lane, Stoke Newington, Wembley and Bethnal Green.
Also chapters on vegan social groups, vegan festivals in London, vegan wine, vegan dogs and cats, and where to buy vegan shoes.
800 pages full colour throughout, photos, maps.
ISBN 978-1-902259-20-8.
Coming soon! Email us if you would like to be kept up to date, or help with proofing an area you live or work in.
Already available
Vegan Central London
Vegan East London
Vegan South London
Vegan North London (prototype)
Vegan West London (prototype)