Vegetarian Israel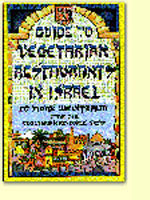 By Mark Weintraub
More than just falafels, Israel is a vegetarian and vegan paradise. Includes restaurants in Jerusalem, Tel Aviv, Jaffa, Haifa, Tiberias, Galilee resorts, Moshav Amirim, and top winter destination Eilat on the Red Sea. Also health food stores in Jerusalem, Tel Aviv and Haifa. Restaurants range from Italian to Indian; from cafe and nightlife to upscale hotel and resort. Indispensable for the vegetarian, health-concerned, or kosher traveller.
88 pages.
Available Online

Only £4.99 / US$9.95

Still Not Convinced?