Vegetarian France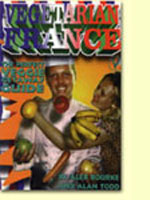 By Alex Bourke & Alan Todd
Relax and recharge at 150 vegetarian, vegan and veggie-friendly hotels, guest houses and restaurants all over France. Includes a large Paris section. Features an all-you-can-eat vegan buffet in Marseille, veggie vocabulary, maps, the hitch-hiker's guide to the south of France on 10 euros a day and vegetarian organisations for long stayers.
"A lot of people think it's impossible to find vegetarian food in France, but this little cracker of a book proves them wrong. Vegetarian France is an invaluable guide to finding really good vegetarian food in the most unexpected places. Bon appetit!" -- Paul and Linda McCartney
Researched by France's leading vegetarian publishers Editions La Plage, translated and adapted by Veggie Guides founder Alex Bourke, who lived in France for two years.
128 pages. Order online and get a free fold-out colour pocket map of Paris to help plan your trip!
Available Online

Only £6.99 / US$12.00

Still Not Convinced?