Vegetarian Europe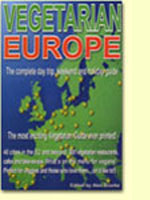 Edited by Alex Bourke & 29 bilingual Veggie Guides authors.
Holidays and weekend breaks are now easy with this guide to 300 gorgeous city centre vegetarian and vegan restaurants in Europe's top 40 destinations. Walk hand in hand in Paris and Venice, relax in veggie cafes in Amsterdam and Copenhagen, party all night in Dublin and Munich, bronze in Spain and Croatia, sightsee in Florence and St. Petersburg, shop till you drop in London and Rome.
Detailed descriptions include animal, dairy and egg free dishes and desserts, plus prices and opening hours, for a wonderful holiday in 23 countries from Scotland to Greece, Portugal to Russia. Plus veggie vocabulary, maps and addresses of local groups for long stayers.

288 pages.
Available Online

Only £9.99 / US$16.95

Still Not Convinced?