Vegan Guide to New York City 2013 - 19th Edition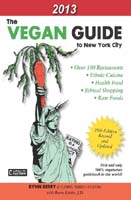 By Rynn Berry & Chris Abreu-Suzuki with Barry Litsky
From Harlem to Wall Street, Manhattan is vegan and veggie nirvana. Over 100 vegan and vegetarian restaurants plus health food stores, ethnic cuisine, famers' markets, raw food places, top 10 juice bars, bookstores, even where to buy vegan shoes. Handy map of the favorite 22 NYC eating places. (Note: the 2014 final edition is now out of print. The 2013 edition is almost identical.) 138 pages.



Available Online

Only £6.99 / US$9.95

Still Not Convinced?